Requirements of host PC.
Processor.
Minimum: Windows 10, Intel i5, 4th Generation Processor or above with at least 8GB of RAM.
Installation and Activation.
Double click the 'setupmontage.exe' file and follow the prompts to complete the installation.
Once the installation has completed, open 'DisplayNote Montage' from your installed applications.
To activate the application, enter the required details on the 'Activate Montage' screen, including the licence key you have been provided.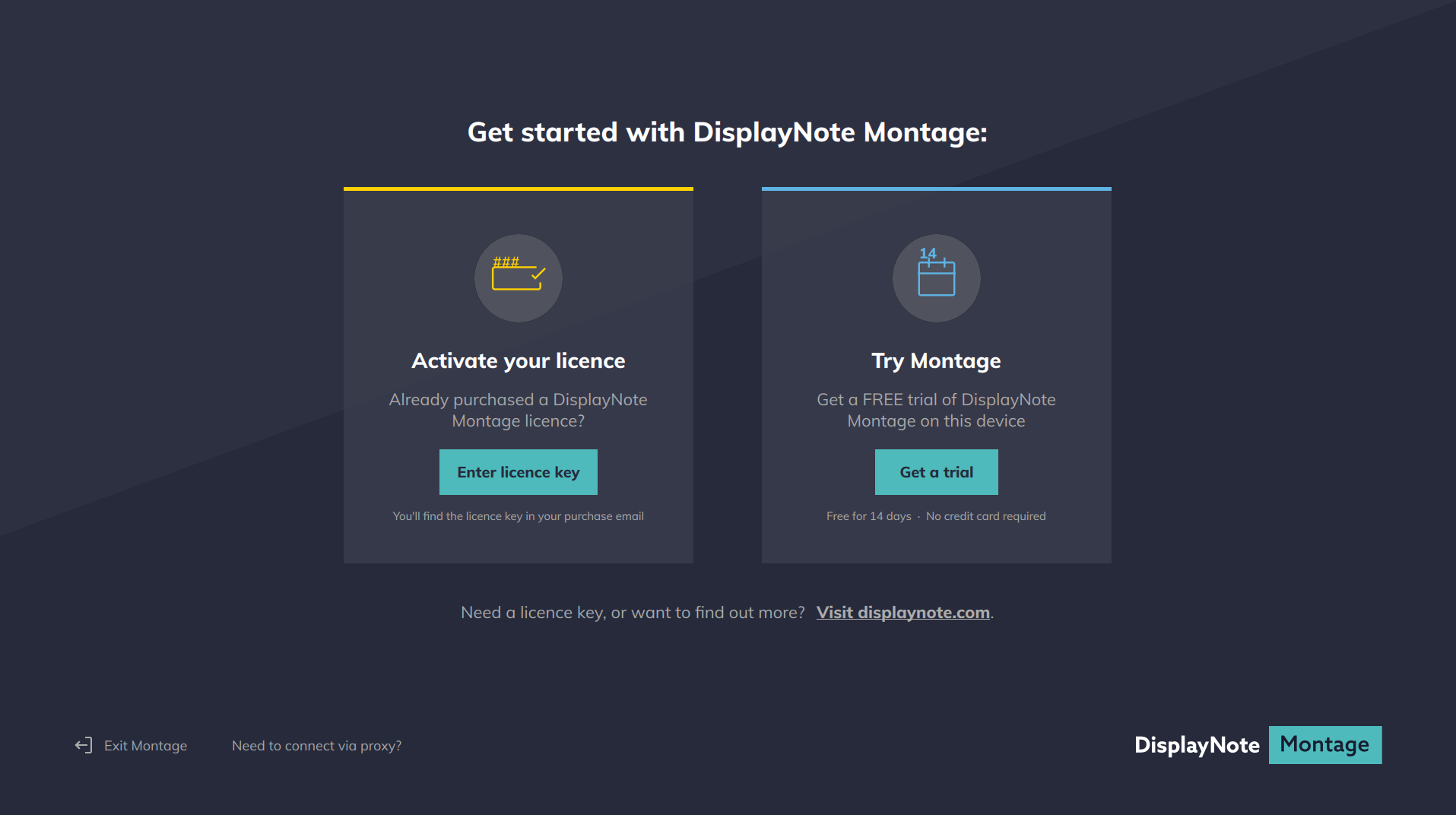 Montage receiver home screen.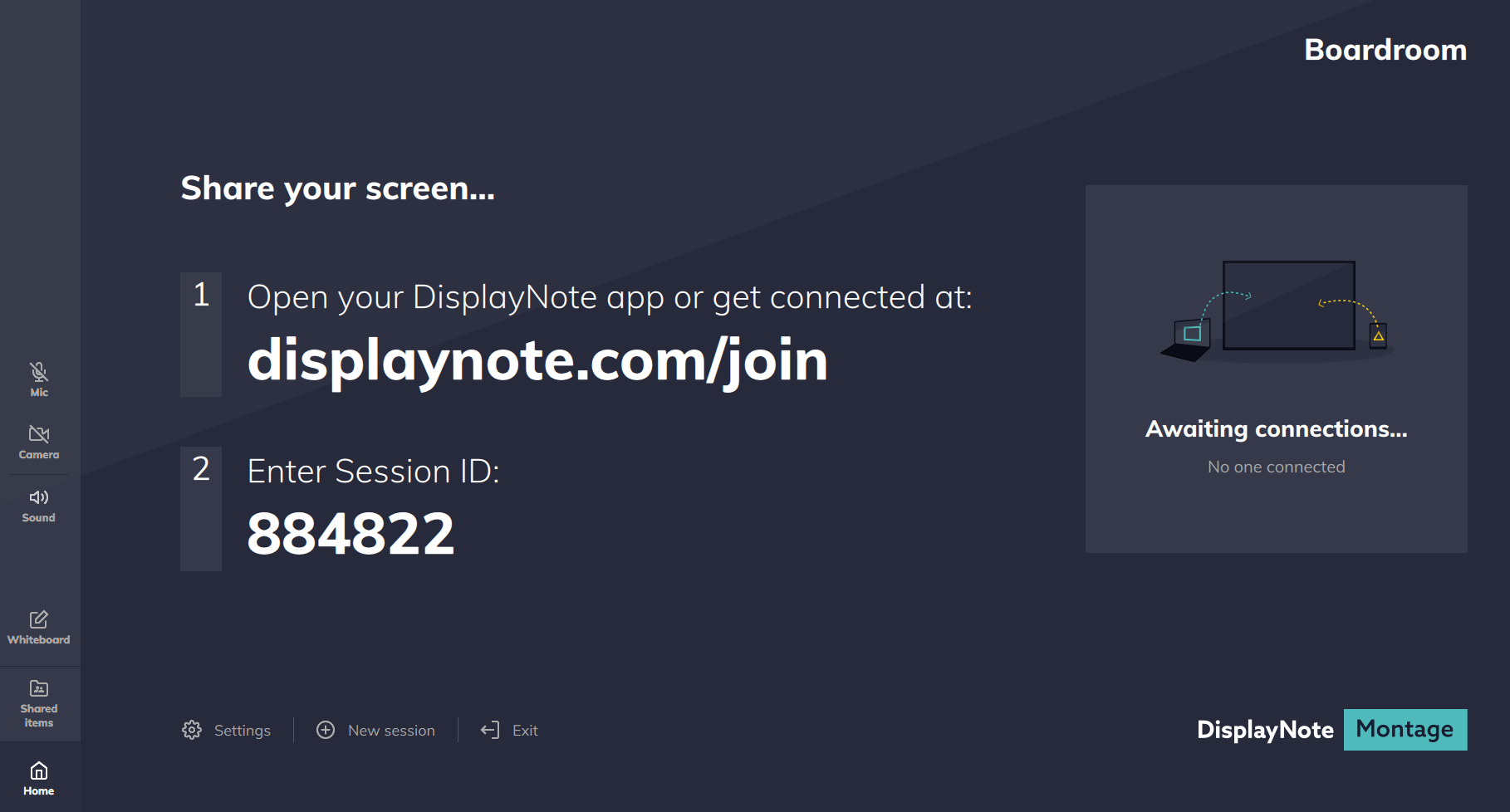 The Montage home screen is shown above.
The home screen contains the URL which includes instructions to join a session, and the session ID (and PIN, if activated).
If users are connected, they will appear in a list form on the right side of the screen.
The bottom of the screen includes 'settings', 'new session', and 'exit Montage'.
Along the left shows the 'shared items' folder, 'whiteboard', and 'home'.
Once users have connected to a session, any documents, links or files shared during the session, or screens captured, will be accessible for all attendees in the 'shared items' folder.
The 'whiteboard' opens a blank canvas, with some annotation tools, perfect for quickly bringing ideas together visually.
When away from the Montage home screen, 'home' will bring you back.
Creating a session.
When the user first launches Montage, a session ID will be generated. The user can also create a new session from Montage by clicking or tapping on 'new session', at the bottom of the screen.
Joining a session.
What devices are compatible with Montage?
Attendees can join a session on the following platforms:
| | |
| --- | --- |
| Platform | Connection method (recommended in bold) |
| Windows | Windows Application, Guest Application, Web Client* |
| MacOS | Mac Application, Web Client, AirPlay |
| iOS | iOS Application, AirPlay |
| Android | Android Application |
| Chromebook | Web Client (Chrome) |
| Linux | Web Client |
*Web Client includes Chrome and Firefox.
Please note, if searching for native applications in the App Store, or Play Store, search for 'Montage wireless'.
Updated apps for iOS and Android will be available early 2019, but in the meantime, users can connect using the current Montage wireless apps.
How to join a session?
If it's the user's first time using Montage, they need to visit displaynote.com/join where they'll find instructions on how to join a session.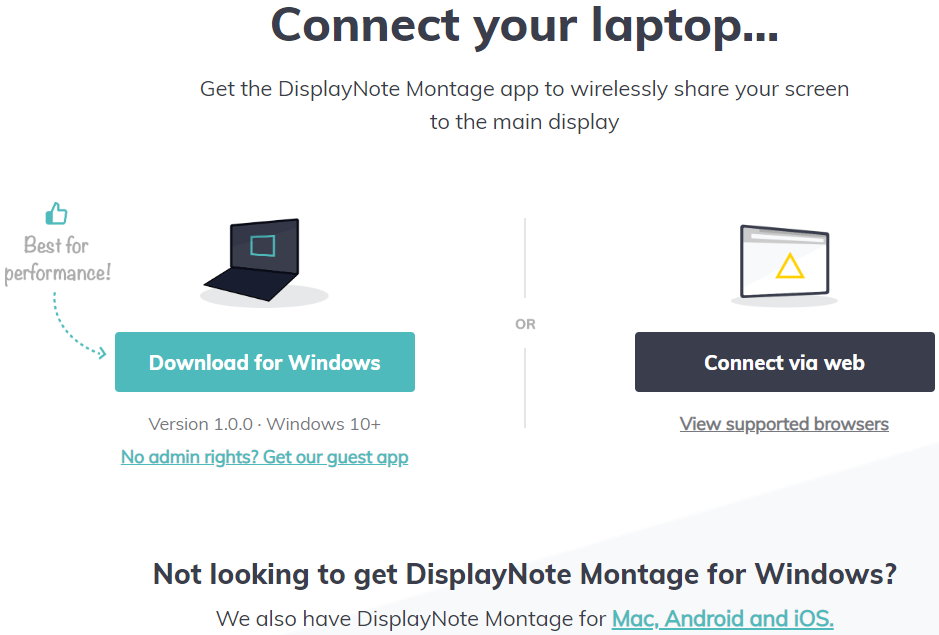 The displaynote.com/join page is shown above.
The page will adapt depending on the type of device the user is visiting the site from.In the screenshot above, this is what a Windows user will see. The page will prompt the user to download the Windows client, or alternatively they can join via web client.
If a user visited from a Mac, they would be prompted to download the Mac client, or join via web browser. The same goes with all device types.