Web browser.
Guests who do not have IT permissions or admin rights to download apps to their device can join a session via web browser. Support is available for Chrome and Firefox. Guests simply visit www.displaynote.com/join and choose to 'connect via web' and follow the instructions.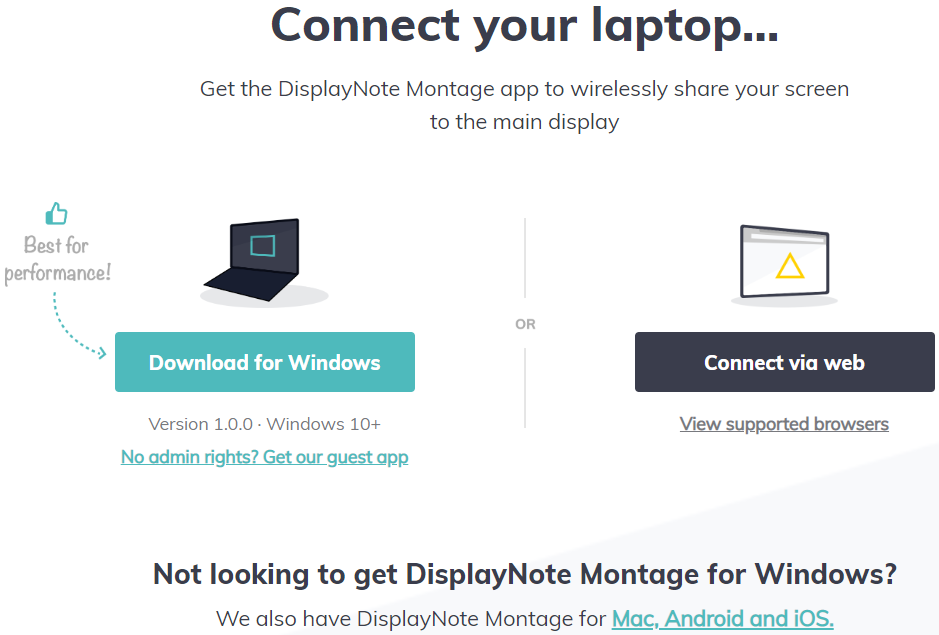 Guest app.
If an organisation does not want to provide their private WiFi details to guests, they can also join via a dedicated Guest app for Windows, which requires no installation. Guests should again visit www.displaynote.com/join and choose 'get our guest app'. It will take around 20 seconds to open, then guests can connect as though they were using the dedicated Windows application.
AirPlay.
Alternatively, if a guest is using an iOS device, they can share their screen using the AirPlay functionality. Simply swipe up on their device, tap on 'screen mirroring', select the DisplayNote Montage device, and enter the password (which is the session ID shown on the Montage home screen).
Because of the nature of AirPlay, it is solely a screen-mirroring tool. There are no collaboration features via this method of connecting.